SKIN RESISTANCE
for movement & tape
SKIN RESISTANCE ...
Once upon a time, there was a marionette who moved between reality and the world.
Its acts - to move, shape, fold, bend, dodge, shove, sprint, spurt, slide, flog, turn, whip and confuse - are trapped to the crossbar hovering above.
And upon that time there was another figure, a visual and spatial antagonist. The marionette, carefully balanced with its counterpart, has a life of its own, but can't undo its cords
Enjoy this performance & sentence in recorded Morse Signs:
I SPEAK SPANISH WITH GOD, ITALIAN TO WOMEN, FRENCH TO MEN & GERMAN WITH MY HORSE -Charles V-
CONCEPT
The skin is the outer or visible layer between inside and outside.
The skin is also a communicator, it tells the story of a marionette, or the puppet we are in the world and in our own being.
The other figure, dressed in white behind a white mask, represents a tangible relationship, emphasizing their mutual and reciprocal connection.

This performance serves as a magnifying glass, showing the interpretation of an existing resilience. It questions the available resilience of who we are deep inside and how we move in the world. How haughty can we be without fooling ourselves?
And what about freedom?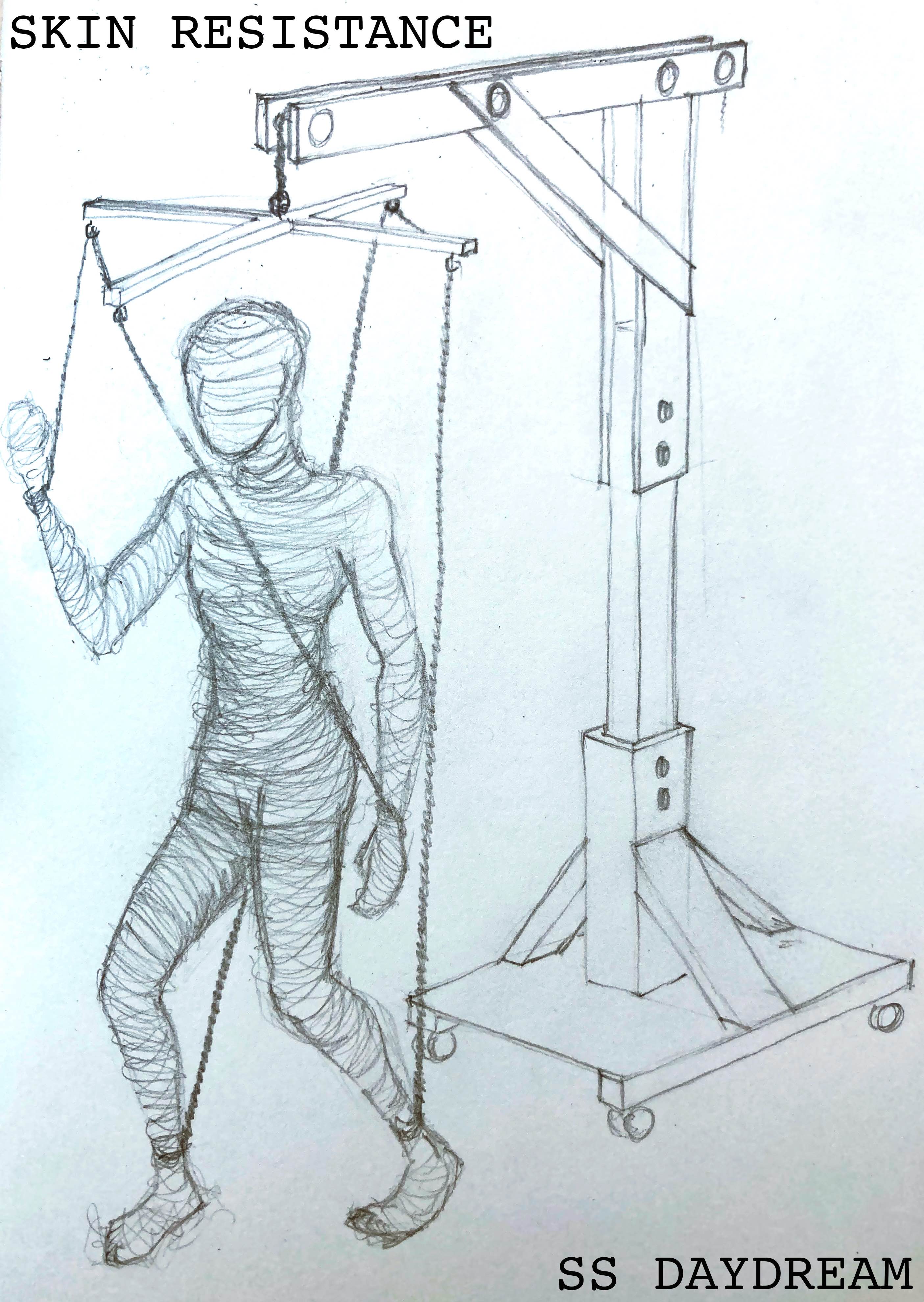 Free is a sober state of uninhibitedness from a presented, fixed frame. That frame is made by one's culture, habits or work; because we are part of a specific set, we have a choice how we behave and decide on and find our own way.
In the urge to determine one's own autonomy: is the other a puppeteer? Or is it a dressed- up reflection? Who is the antagonist? And if there is no hierarchy, are they ambivalent in their interactions?
To become FREE is to confront surface and space.
This performance is a poetic search for freedom based on the following question:
How do we swing into the world like a marionette and how do we deal with ourselves without being a marionette?
The sentence of Charles V is a wink to the human condition, imagining the world we understand. It will be written on the stand holding the crossbar